US Flags
Military Flags

State Flags A-C
State Flags D-H
State Flags I-L
State Flags M
State Flags N
State Flags O-S
State Flags T-V
State Flags W
US Territories

Historical Flags
Confederate Flags
Religious Flags
Garden & Banner
Patriotic Items

Ribbon Magnets

Flag Etiquette
Who Are We?


The Leap Day Tornado that hit Branson blew up "The Flagstore".
The damage has caused us to move.

We are now located at 114 S. Commercial,one short block north of the old location.

If you desire a flag, we probably have it.
Standard shipping (UPS) and handling is $9.90 per order for less than 10 pounds.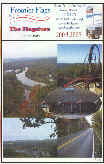 Click Here And Request A Free Copy Of Our General Flag Catalog